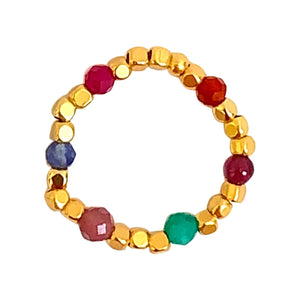 One of a kind stretch ring. Fully Handmade and woven with such delicacy from small gold plated beads and multi stones. This fashion ring can be worn alone or stack it with our other rings.
Stretch Ring
Size flexible but between 17-17,5mm
Gold plated brass beads finished with a special ceramic coating
multi semi precious stones

RU
 
Gold plating is the process where a thin layer of gold is bonded onto a base metal. By taking proper care of gold plated jewelry you can extend its life. Please use these steps;
Keep gold plated jewelry away from chemicals, oils and make up.
Take off gold plated jewelry before swimming and bathing.
Do not spray on perfume while wearing your gold plated jewelry. Wear your jewelry after you have sprayed on your favourite perfume.